Assassin's Creed
is a video game in development by Ubisoft. First shown as Project Assassin at Microsoft's X05 event, at the E3 2006 trade show, it was officially announced for the PS3, expected to be released in the first quarter of 2007 under the name "Assassin's Creed". Later on, Ubisoft also announced that the game was coming to the PC[1] [2] and Xbox 360 [3]. The game is being developed by many of the same people who helped make Prince of Persia: The Sands of Time, and began production as soon as the latter was completed.
One of the most talked about features of the game is the ability to get around the game world. Influenced by the Parkour phenomenon and its freedom of movement, the player will be able to grab onto and climb "any object that sticks out more than 2 inches", which means exploration of the cities, rooftops, etc. will be possible on a greater scale than in any previous game. The game will also be completely free-roaming, which has led to comparisons with Grand Theft Auto, The Elder Scrolls IV: Oblivion, Shadow of the Colossus, and other games.
Trailer
The Getaway
Some people bashed The Getaway on PS2 and its sequel, Black Monday, for its mildly broken play mechanics. But we really liked it. That's why we're excited to see what the talented chaps at Sony's Team Soho studio will be able to pull off when this astonishing PS3 tech demo, Getaway: Future Vision, becomes a fully-fledged Getaway 3 for PS3.
In the meantime, there's plenty to be excited about; the London-based developer has put together a stunning trailer based on the real-time demonstration that SCE's development chief, Phil Harrison, performed back at E3's press conference.
We're bringing you the usual high-quality, 60fps video quality so you can see just how staggering the demo looks. Depicting an early morning Piccadilly Circus, you'll see astonishing level of photorealism thanks to all the dynamic range lighting, pixel shading and probably a thousand other kinds of sophisticated graphical techniques. It's impressive.
Source: KikizoGames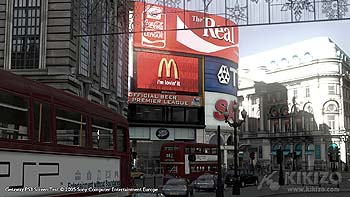 Trailer